Noise, health, and productivity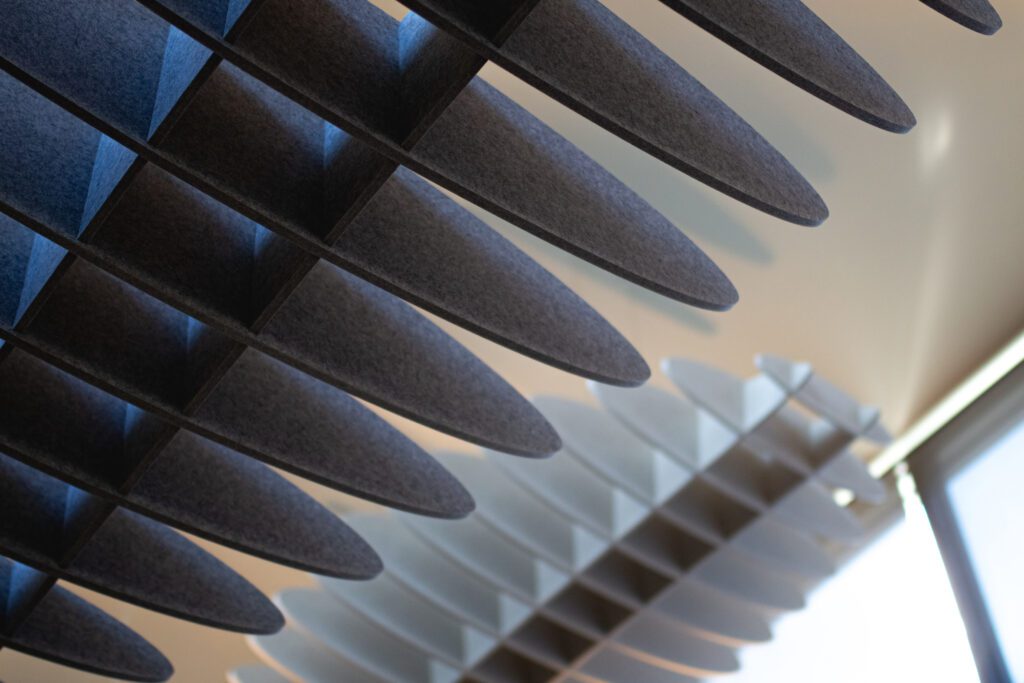 Acoustic solutions matter greatly because noise reduction is an important element for overall well-being. It's been proven time and again that unwanted or disturbing noise can negatively impact people in a space. Autex cites Nick Perham, a New Zealand professor of psychology, who said sound impacts how people recall information, perform basic arithmetic, and even think.
Research also shows that even quiet conversations can stunt productivity in bustling open-plan spaces. Disruptive auditory stimuli over a long period of time can cause health issues like tiredness, pain, and high blood pressure, too.
The right acoustic treatment can create the privacy some people need to feel in control of their space or workday. Proper acoustics can boost performance and morale, too. Autex's Quietspace panel is a high-performing product that absorbs a minimum of 85% of sound energy. The Autex Cube panels are a lightweight solution that absorb extra reverberation. Additionally, the Autex Vicinity system offers acoustic desk screens to give more visual and acoustic privacy in open-plan environments.
In a world where more people work from home than ever before, it's crucial for modern workplaces to have acoustically treated spaces that make video calls or collaborating with coworkers online easier. Along with the Autex Composition wallcovering, the Autex Sordino acoustic wallcovering absorbs noise at high frequencies, where human voices sit.
Open-plan spaces, meeting rooms, breakout spaces, and rooms with hard surfaces—like glass, marble, and concrete—need acoustic treatment most, Hill says, and it's important to consider a room's purpose when analyzing the sound control of a space.